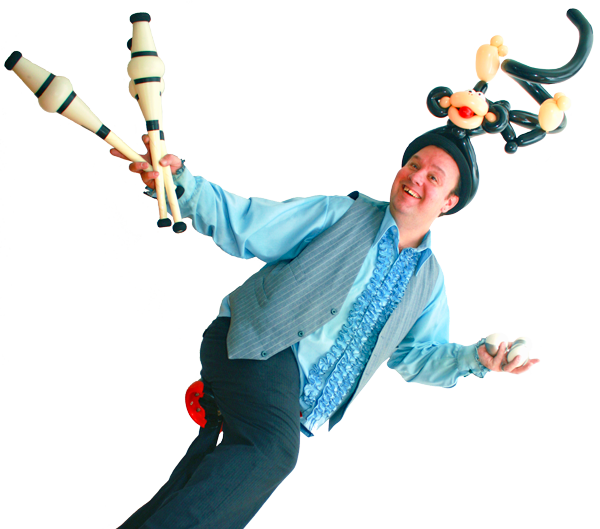 Happy New Year! I'm Tuxedo Jimmy, your friendly Portland balloon guy. I'm just a humble balloon twister, unicyclist, juggler, and magician making my name in the Pacific Northwest, serving the whole Portland metro area. I've lived in Portland my whole life. I love this city, and making kids of all ages smile.
I'm really excited to get my new website launched! The crew at ShiloRune and ADJ Multimedia did a great job with the design and photos. Here you can find photos, reviews, and all the essential facts you need to know about me; along with this blog I'll update periodically. I've got reviews and listings on other websites, but nothing beats having your own site!
Chandra and I are excited for what this new year has in store for us as performers. There's going to be lots of conventions to attend, not to mention a busy circus season here in town! We're really thankful for all of our friends who have helped get us where we are today: CostCo, Daimler Trucks North America, Dr. Jeffrey Sessions, and Traeger Pellet Grills, among others; and not to mention the countless families who have invited us to their homes and parties over the years!
This year is going to a great year for me to further hone my arts:
Juggling: Would love to show you tricks soon!
Magic: I know some parlor and slight of hand tricks. Never hurts to learn more!
Balloon Sculptures: I've been featured in some prominent places lately, and am always looking for new designs!
This site's going to need some reviews of its own, although posting reviews elsewhere is always helpful. What do you think of the site? Do you have any photos or videos of my performances you want to share? Let me know, and it could be featured on this site! Happy New Year, everyone!
Stay classy,
Tuxedo Jimmy